Introduction

The Memorial Form Easy Guide gives you the step-by-step solution to problems in completing the memorial form. A pre-requisite to registering an instrument is the 'Registrability' of the instrument. Please refer to the Notes on registrability of instruments before you start to prepare the memorial form.

The following chart gives you an outline on how the module works: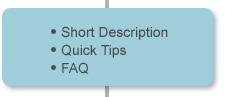 The following is an outline on how the module works:
All items in the memorial form are hyperlinked to a webpage containing its own short description, quick tips and frequent asked questions. Details of each sub-topic are also available in the hyperlink to the related piece of information e.g. LRCM.