Controlling Officer's Environmental Report 2017
1. Introduction
1.1

This environmental report sets out the Land Registry's environmental objective, policy and targets. It also provides details on how we manage our business activities in 2017 with the aim of minimising their environmental impact.
2. Business Activities
2.1

Our core business covers registration of land documents, provision of facilities for search of land registers and records, supply of copies of land records and certification of copies of such records. After receiving paper documents lodged for registration by our customers, we open new or update our computerised land registers and scan the paper documents into imaged records. We also register owners' corporations (OC) and provide related filing and search services.
2.2

We have a workforce of about 600 staff. Most of our offices are accommodated at Queensway Government Offices (QGO), Admiralty, including the Customer Centre which provides a full range of services for land registration and land search as well as registration of owners' corporations and filing and search of OC records. We also have seven outstation offices in other government offices or private commercial buildings.
3. Environmental Impact of Our Operations
3.1

As our activities are mainly office-based, the major impact of our operations on the environment comes from consumption of electricity and paper. Electricity is mainly used to operate the computer systems and provide a suitable office environment for staff and customers. Paper is mainly used for printing of copies of land records and photocopying of land documents.
4. Environmental Objective and Policy
4.1

We are committed to environmental protection with the objective of minimizing consumption of paper, energy, office materials and natural resources. Our environmental policy, which has been adopted since 1997, is as follows:
Reduce, Reuse, Recycle and Replace - We reduce daily consumption of paper, reuse used materials, recycle waste paper, encourage electronic documentation and replace non-environmentally friendly products as far as possible.


Efficient Use of Resources and Energy - We encourage staff to use natural resources wisely and install energy-efficient systems as far as possible.


Compliance - We maintain a set of green housekeeping rules to reduce adverse impact from our operations and safeguard the health and welfare of our staff. We seek to ensure compliance with such rules through a three-tier Environmental Management System.


Continual Improvement - We seek continual improvement to our environmental performance through regular assessments and implementation of new measures and practices.


Communication - We ensure that staff are aware of their environmental responsibilities through regular communication and encourage them to participate in environmental activities and audits.


4.2

To implement our environmental policy, we have put in place a three-tier Environmental Management System. Under the system, the Registry Manager serves as the Green Manager who oversees the operation of the system and monitors our environmental performance. At the operational level, a Green Housekeeping Working Group led by the Departmental Secretary and comprising various office representatives is responsible for devising and introducing green measures, managing environmental audit and setting targets. In the frontline, Environment and Safety Executives are appointed in various sections to check compliance, implement green initiatives, encourage adoption of best practices and raise environmental awareness. The following illustrates how our Environmental Management System operates.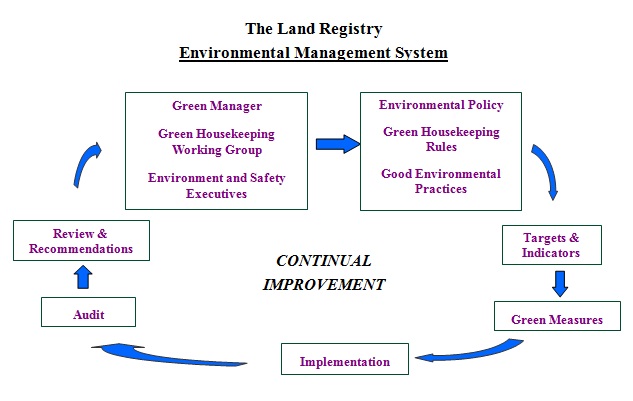 The Land Registry
Environmental Management System
The Land Registry is committed to the continual improvement of its environmental performance. Under our Environmental Management System, the Green Housekeeping Working Group and Environment and Safety Executives assist the Green Manager in:
formulating environmental policy, devising green housekeeping rules and encouraging staff to adopt good environmental practices;


setting targets and indicators;


introducing and implementing green measures;


managing environmental audit; and


conducting review and making recommendations.


5. Green Measures Taken
5.1

In view of our office-based nature, we have introduced the following measures to address the key environmental impact of our activities –
(A)

Waste reduction
enhancing electronic services by developing computer systems to facilitate electronic processing, scanning, indexing, storage and search of land documents;


producing reports in soft copies as far as possible;


adopting and encouraging the use of electronic channels for internal and external communication by staff, e.g. e-leave system, digital library service system, e-staff magazine, e-booking system for the meeting facilities of the department and knowledge management system; and


adhering to the good environmental practices, e.g. using both sides of papers, using blank side of used papers for drafting, not using fax leading page or printing fax journal, preview documents before printing, reducing printing and photocopying to the minimum, using "save toner" function and rechargeable batteries as far as practicable.


(B)

Conservation of resources and recycling
implementing energy retrofits and management control measures such as using T-5 florescent tubes, installing motion sensors for room lighting and water faucets, adding switch-timers to office equipment such as water dispenser and adopting sectional lighting in offices;


adopting open office design to reduce the use of materials, maximize the use of natural light and enhance ventilation flow;


encouraging staff to use staircases instead of lifts for inter-floor trips, to activate energy saving modes during office hours, and to switch off lights, office/computer equipment and electrical appliances when they are not in use and after office hours;


reminding staff to save water;


collecting recyclable waste materials such as newspapers, office papers printer cartridges and staples for recycling on a regular basis; and


providing designated bins for separation of recyclable waste at source to facilitate collection on each office floor.


(C)

Air quality management
joining the Indoor Air Quality Certification Scheme organized by the Environmental Protection Department.


(D)

Enhancing staff awareness
displaying environmental policy, green housekeeping rules and good environmental practices in our intranet and at prominent locations of our offices, putting across our environmental vision and encouraging compliance;


maintaining a dedicated folder in our intranet providing all relevant information, departmental guidelines and useful links on environmental protection for reference by staff;


updating staff on our environmental performance and green tips through our quarterly consumption statistics and e-Staff Magazine;


conducting surprise checks both during and after office hours on all offices to ensure that staff comply with the stipulated departmental guidelines; and


encouraging staff to participate in environmental seminars and activities, and report deficiencies to the Environmental and Safety Executives.


(E)

Conducting environmental audit
implementing an audit mechanism to check compliance with our environmental policy and rules, and identify areas for improvement.


(F)

Green procurement
procuring environmental friendly products such as wood-free printing paper, reusable printer cartridges, chlorofluorocarbon free refrigerators, electrical appliances with energy efficiency labels and various refillable stationeries as far as practicable;


incorporating green guidelines into our office cleansing contract that requires the contractor to implement a number of green practices such as using green cleansing products and saving water and energy in their operation.


adopting green specifications / requirements for products and services promulgated by the Environmental Protection Department in quotations and tenders as far as practicable.


6. Environmental Performance
6.1

To ensure that our operations are conducted in an environmentally responsible manner, we have enhanced our electronic services. Some of the major initiatives taken include:
An Integrated Registration Information System (IRIS) was introduced in February 2005 to enable our customers to conduct online searches of land records through the Internet, and place orders and print copies through their own computers, if necessary.


The paper-based two-volume Street Index for urban properties and the New Territories Lot/Address Cross Reference Table (CRT) were converted into compact discs in 1999 and 2000 respectively to facilitate our customers to search the required data speedily and conveniently through their own computers and enable them to save printing papers in this regard. Since June 2011, we have taken a further step by uploading online versions of the Street Index and CRT for free browsing on our website or through the hyperlink to our website on the IRIS Online Services.


Since November 2007, we have provided an e-Memorial Form on our website for free download. It automates the procedure and enhances accuracy of preparing memorials for registration, thus helps paper saving.


Since 2007, IRIS reports of different types have been produced in softcopy and at present, soft copy reports account for 65% of the total number of IRIS reports. Some major users of our reports-on-title service have switched to receiving soft copy reports. We have also used emails to replace floppy diskettes since 2007 to deliver the Memorial Day Book and Monthly Memorial Information on Mortgage data files to all subscribers.


6.2

Given our efforts as mentioned in paragraph 6.1 above, the usage of our electronic services has been growing significantly.
(A)

Usage of IRIS
Usage of IRIS
20061
2017
IRIS subscribers
604
1,333
Total no. of searches of land registers (in million)
4.30 M
5.58 M
No. of searches of land registers through IRIS (in million)(% of total searches)
3.71 M
(86%)
5.16 M
(92%)
Total no. of orders of copies of land documents (in million)
0.78 M
0.92 M
No. of orders of copies of land documents through IRIS (in million)(% of total orders)
0.60 M
(76.9%)
0.78 M
(84.8%)
(B)

Visits to the Street Index and CRT
Visits to the Street Index and CRT

| | 20112 | 2017 |
| --- | --- | --- |
| No. of visits to the online services of the Street Index | 12,370 | 25,133 |
| No. of visits to the online services of CRT | 13,595 | 106,539 |
(C)

e-Memorial Form
e-Memorial Form

| | 20083 | 2017 |
| --- | --- | --- |
| Percentage of documents lodged for registration using e-Memorial Form | Over 40% | Over 65% |
6.3

We have also significantly reduced the paper and electricity consumption over the past 11 years.
Paper and Electriciry Consumption
20061
2017
Paper Consumption (reams)
41,745.90
19,707.89
(↓52.8% as
compared with 2006)
Electricity Consumption (kwh)
1,849,157
709,269.64
(↓61.6% as
compared with 2006)
1
IRIS was implemented in February 2005. As the first full year statistics were available in 2006, this year was adopted as the baseline year for comparison purposes.
2
The online versions of the Street Index and CRT were introduced in 2011.
3
E-memorial form was launched in November 2007. The first full year statistics were available in 2008.
6.4

In 2017, our offices at QGO and seven outstation offices were awarded "Good Class" grading under the Indoor Air Quality Certification Scheme.
6.5

Besides, we have committed not to provide bottled water when we hold our events/ activities/ meetings in our offices by joining the "Green Bottle Workplace" and "Green Bottle Indoor/Outdoor Event" programmes organized by the Green Earth.
7. Environmental Targets for the Year 2018
7.1

In 2018, we will:
continue to reduce paper consumption through adopting existing methods and pursuing new measures;


continue with the existing energy saving measures and further explore new measures;


continue to encourage staff to adopt good environmental practices and organize activities/training to promote their environmental awareness;


continue to explore practicable green housekeeping practices to reduce waste and resource consumption;


continue to conduct environmental audits on offices to look for areas for further improvement; and


continue to encourage staff to use recycled products.


8. Comments and Suggestions
8.1

Please send comments and suggestions to our Green Manager or Departmental Secretary by email at ds@landreg.gov.hk or by post to 28/F, QGO, 66 Queensway, Hong Kong. To save paper, we have produced this report in softcopy only.
The Land Registry
August 2018