Future Plan
(A) Removal of Data Centre to permanent government offices
At present, the computer Data Centre of the Land Registry is accommodated in a commercial building in the New Territories. We have recently conducted a review of this current accommodation having regard to the long term accommodation requirements of the Data Centre. As a result of the review, we have decided to relocate the Data Centre to government premises which provides improved backup facilities and which offer long term accommodation free from the need to negotiate and renew the tenancy agreement every time it expires. The move will also result in considerable savings in recurrent operating costs and is scheduled for completion in 2007/08.
(B) Relocation of Central Imaging Centre to Headquarters to streamline registration process
The Central Imaging Centre (CIC) is located on the same floor with the IRIS Data Centre. With the moving out of the Data Centre by the end of this year, the department is planning to relocate CIC to the headquarters at Queensway Government Offices (QGO). By centralizing all activities relating to the registration process under the same roof in QGO, enhanced security of deeds, savings in administrative costs and work efficiency gains are envisaged.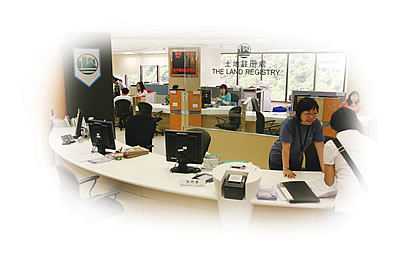 (C) Quality Management Proposals
To ensure continuous improvement in service quality and value to other customers, the following new projects are in the pipeline :
e-Form for Lodgement
The Land Registry is exploring the uploading of electronic memorial form in PDF format on the Registry's website for use by lodging parties.
We are considering to incorporate the following special features in the e-form :
The benefits of the e-form are to provide efficient, convenient and user-friendly means for completing the memorials. Lodging parties can simply download the e-form for completion of memorial particulars. Customers will not need to purchase the memorial forms from the Land Registry.

Standard Terms Documents (STD)

We are working on plans for the uploading of standard terms documents (STD) for use with legal charge and mortgage deeds to the Land Registry's website and the provision of free downloading services to members of the public. The benefits of the plan include:

We are consulting the stakeholders on the proposed arrangements. Issues on legal, financial and other logistics are being sorted out with a view to improving business efficiency for all parties and reducing paper consumption.




Best viewed with 800 x 600 resolution on IE5.0 or Netscape 4.7 or above.